Logan County Courthouse
Logan County Court
Logan
Photographs are provided to assist in locating this courthouse: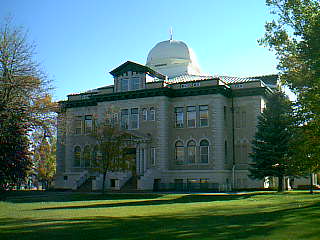 3rd & Ash

Sterling , Colorado
80751
(970)522-1572
Phone Directory | Wireless Phone Directory
Warning: This is NOT a government web site. The information provided herein has NOT been provided by a government. This information has been provided by a lawyer or attorney or student, for the purpose of providing basic information about the laws and regulations enacted by a government and the government offices that apply laws and regulations, and for the purpose of encouraging discussion and facilitating proper legal challenges related to the application of laws and regulations made by government. Citizens always have the right to challenge government. Citizens need independent information not provided by government about government offices, phone numbers, locations, and their services or lack thereof. Please note that the information provided may not be up to date. It is your responsibility to meet with a lawyer or attorney in person to get complete advice. Information provided by some government sites may also be sometimes out of date, sometimes incomplete, or sometimes focused on protection of government politicians, officers, policy initiatives, and interests. It is essential that you retain and instruct an independent lawyer or attorney to represent YOUR interests and inform you accordingly.
Other Cities & Towns Served in addition to :
Logan County Courthouse - Parking: Yes
Courthouse Photocopying: Unknown
Food in Logan County Courthouse - Courthouse: Unknown
Logan County Courthouse- Lawyers' Lounge: None
Logan County Courthouse - Law Library: Unknown
Logan County Courthouse - Court Internet Data Access: None
Directions to Logan County Courthouse - Courthouse: See Map
History of Courthouses in : None
See also: Colorado DUI Legislation DWI Legislation
This is not the official web site for the Logan County Courthouse, Logan Courthouse. If you click on one of the following links you will leave this web site and go to another site.
Google Map, Location and Directions
Drinking and Driving Attorneys in Sterling , Colorado DUI Legislation

Map of 3rd & Ash, Sterling Area

No records returned.